The Medical College of Saint Bartholomew's Hospital Trust is the legal owner of land and property at Charterhouse Square.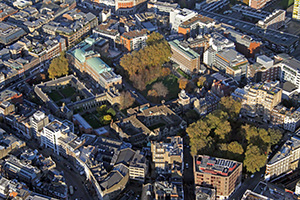 The Trust leases the majority of the site to Queen Mary University of London at a peppercorn rent for the benefit of Barts and the London Faculty of Medicine and Dentistry in furtherance of the Trust's charitable purposes.
From 2005–2009 the Trust worked on the development of the bombsite left after the air-raid of 10–11 May 1941 at Charterhouse Square together with its development partner, Thornsett Homes Ltd. This development was aimed at enabling the Trust to realise significant sums of money from the site, primarily through residential development, with the intention that such monies should facilitate the School in furthering its pioneering work long into the future.